Which SPF (Sun Protection Factor) is better in my suncream?
So whether we are looking for the best sunscreen for face or body, its important to understand the effectiveness of SPF. Sun Protection Factor (SPF) is a common label on most if not all sunscreens. SPF indicates the theoretical amount of time your skin can stay without experiencing sunburn. It also acts as a measure of protection against UVB rays of light. Different SPF offers a different amount of protection against UVB light. The higher the SPF label the higher the amount of protection it can offer against UVB light. For instance, an SPF of 10 will filter about 80% of UVB rays while an SPF of 30 will filter about 97% of UVB rays. The SPF, however, reduce effectiveness as they get higher, an SPF of 30 will filter 97% of rays while that of fifty will only filter 98%.
No SPF can filter 100% of UVB rays, and this is because other factors are at play in how the SPF works. If you do not apply sunscreen evenly throughout your body some areas may be exposed to UV rays affecting the effectiveness of the SPF. The UV index is also another factor. For instance, sunscreen lotions are often recommended when the readings are between 3 and 7. However, when the intensity is above 8 the SPF might do little work in filtering the UV rays.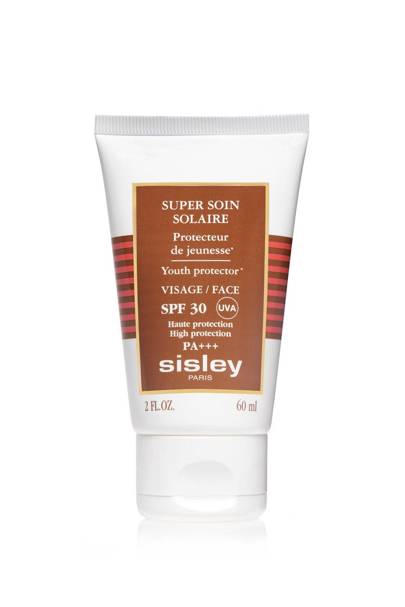 Sisley's Super Soin Solaire Facial Sun Care, with SPF 30 protection, our favourite, ticks all boxes with added vitamin E and the wonderful shea butter. Retailing £146,  available at Sisley-Paris.com.
The SPF is also significant in extending the time for immunity against sunburn. Similar to the earlier explained function the higher the SPF the more effective the SPF is. An SPF of 30 will protect for longer than that of 10. This function is also dependent on your skin makeup. The amount of time for which you receive protection against sunburn depends on the initial time you can withstand the sun before experiencing sunburn. For instance, if you initially stay in the sun for four minutes before experiencing sunburn, then the SPF multiplied by your initial time is the amount of time you will withstand the sun. With that, you can be sure to take a keen look at an SPF before use.